update 8:55 a.m. - The snow has been heavy at times this morning. Now the heavier showers are moving away to the southeast. But it doesn't mean we're completely done with the snow. Showers will continue through this morning, with the possibility for a little bit more snow this afternoon.
The good thing is, since this was mainly snow and not a lot of ice, roads and highways are drive-able. You just have to slow down when you head out. Things will probably be a bit slicker tomorrow morning, after snow melts from traffic then re-freezes overnight.
Since it's still falling, some numbers will change. But so far we've had several reports of 3" to 4" of snow around Lubbock. When measuring snow you want to do it away from any other objects (house, fence, bushes, etc.) in a few spots and average it out.
Not too far south, it's about 5" to 6" at Wilson and more than 8" around Lamesa. 3" to 5" has been reported around Levelland.
The temperature won't move much today, freezing through the afternoon. Then tonight it'll drop to around 15, so there will be re-freezing on roads.
---
posted Saturday afternoon - The National Weather Service has issued a winter storm warning for Lubbock and much of the South Plains, which runs through Sunday evening. The warning is pink counties below. A winter weather advisory is in white, where less snow is expected.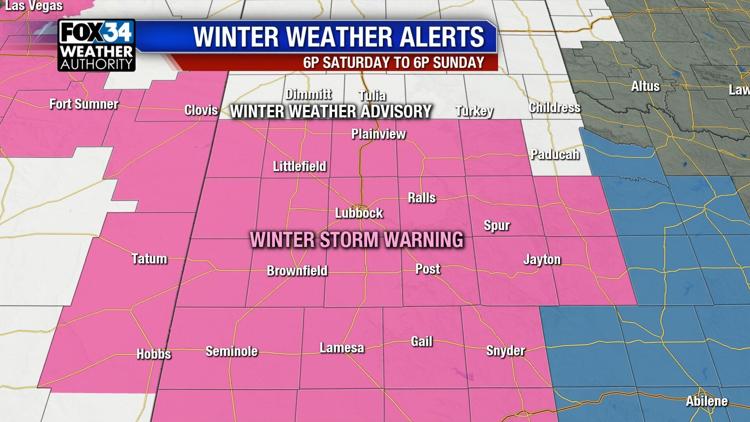 This afternoon the powerful upper-level low is near the Four Corners, moving southeast toward our area. This is a favorable path for heavy snow in our area. This is well-researched, including work by Jeff Vitale at the NWS Lubbock, according to an update from the Weather Service the other day. With this, and good agreement in computer guidance past few days, there is high confidence there will be snow across the region. Now we're fine-tuning where the heaviest snow will fall.
This morning's forecast guidance as well as current satellite observations show the storm system tracking a little farther south. Yesterday it looked like heavier snow would fall north of Lubbock. Now it looks like that will be S/SE of Lubbock.
Here in the city we still think it's likely we'll pick up three inches of snow, with a forecast range of 3" to 6". Here is an update as of mid-day.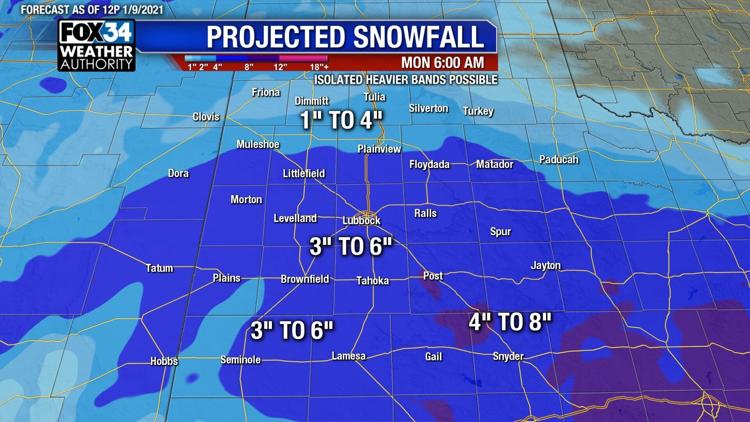 There will likely be some heavier bands of 6" to 8" in our area, but it's tough to pinpoint where these areas will be. Less than two weeks ago we had minimal snow in the city of Lubbock, 3.5" at Slaton and 8" near Post...all points about 40 miles apart. That can happen again here. But, unlike that last round, we expect snow to be more widespread this time.
There could be some freezing drizzle or light rain initially this evening, before it quickly transitions to all snow late tonight/early morning. Snow rates at time may get heavy through tomorrow morning, with snow winding down in the afternoon.
Robert will have an updated forecast tonight on FOX34. Stay with us for updates.
-Matt